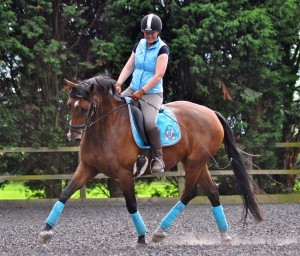 Woodcroft Kristabelle (AKA Katie) 2006 16.2 bay Trakehner mare.
I bought Katie as a 2yo from Woodcroft Stud. She had won champion foal at the Trakehner Breed show and her dam was bred by a famous German breeder, the Graefin Dohna. Her dam was sold straight back to Germany after Katie was born.
As a 3yo she entered the Futurity and was graded Elite gaining the highest score in the UK for 3yo dressage horses.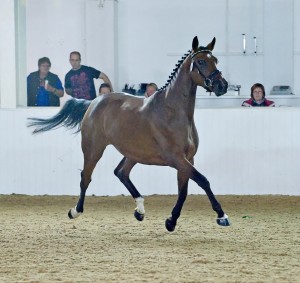 Katie is my dressage horse and is the kindest, most loving horse you could wish to meet. She is a princess and insists on special treatment such as always being turned out first. She also expects me to talk to her before any other and gets very indignant if I dare to pat any other horse before I pat her. LOL! I think she is also a one person horse but she's staying for life so that is an asset rather than a problem. I adore this horse.
She's competing PSG level with scores up to 66% and has much of the GP work in place. The one time changes are now reliable and on the aids and piaffe is coming. I'm hoping she will be my first GP horse.
Her sire Le Rouge is competing GP in Germany. Her dam sire King Arthur is competing GP in Germany. Her motherline has produced GP horses such as Kasimir. It also produced the stallion licensing champion in 2013 in Kissinger's Karma.
Eventually I'd like Katie to have some foals but that won't happen until she has finished her competition career.