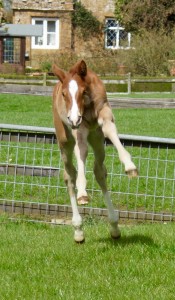 Stolen Sunrise
Chestnut filly bred to event at the highest levels. Born 28/3/16, Easter Monday.
Stolen Sunrise (AKA Dawn) is by Persiflage, an AngloArab 3*** event stallion who is by Primitive Rising, 4th on British Eventing's list of the greatest sires of all time. He is from the dam line of Tamarillo, William Fox-Pitt's Badminton winner and Olympic silver medallist and European gold medallist.
She is out of Stolen Circus who is also bred in the purple for eventing. Stolen Circus is by Upton's Deli Circus, himself a European gold medallist and sire of 4**** event horses. Her dam was my blood hounding horse, Stolen Silver, who cleared 1m80 several times while out with the Readyfield Bloodhounds and then went on to compete very successfully in dressage winning the national title of best Irish Draught sports horse in the UK, was ranked in the top 45 in the country at Medium level, ahead of literally thousands of warmbloods, and  we competed up to PSG. She retired to stud, sound, age 16.
The motherline of this filly is also impressive. It has produced a 4**** Olympic eventer called Before I Do It and the full sister of her granddam was supreme champion at the Horse of the Year Show.
This filly has quality and athleticism in abundance. She was galloping like a racehorse at just one week old. She's bold, brave and bred for the job. She is 3/4 blood (TB and Arab) with a splash of Irish and enough movement to hold her own against any warmblood. This one will make the time cross country with ease.
This filly just keeps getting better. Her dam Dizzy has the best temperament you could ever wish for and Dawn is an exuberant, bubbly, bouncy version of her mum. Turnout is limited at the moment as its still so wet and cold but when they are out in the field Dawn gallops and leaps and bounces and plays for hours. She runs rings round her mum who quietly watches and grazes in the middle. I've never seen a foal with so much energy or such a lovely mix of bubbly and polite. When they were being led out Dawn was racing round the little paddock (Dizzy doesn't bother about things her daughter does that would send other mares into a tailspin of worry) and realised her mum was being led through the gate into the big field. She flat out galloped through the gateway, straight towards the lead rope between Dizzy and Nicola who was leading her. Most foals would have run headlong into the lead rope and caused mayhem. Dawn saw the rope and did a sliding stop any Western horse would have been proud of, waited till the rope had been taken off her mum and then sprang straight back into gallop again. This one is brave, fearless, agile and clever.
For sale to an event rider who aspires to ride at 3*** and 4**** level.
Price guide ****