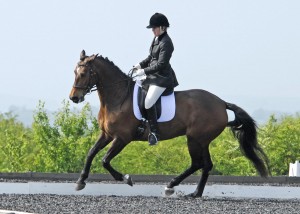 Aimbry Caramba
sold
2000 15.2 bay mare. Wadacre Chicko x Rastell 782 x Romano.
I bought Aimbry Caramba from her breeder as an unbroken 4yo. She is full sister to three graded stallions: Aimbry Cabana who was national Elementary champion and later exported to the US, Aimbry Chester, a popular stallion who stood at End House Stud for many years and Aimbry Chevalier.
I produced Aimbry Caramba (AKA Rio) to Advanced Medium level with highlights along the way of scores over 72% at Elementary level and qualifying for the finals of the National Young Dressage Horse Championships. Possibly the only time I'll ever be in the same class as Carl Hester and Emile Faurie!
I then sold her to a very talented para dressage rider Kat Smith. Kat and Rio hit it off from the very start and forged an incredibly successful partnership. In 2015 they represented GB and placed 3rd in international competition. What a fantastic result! I'm so proud of both of them.