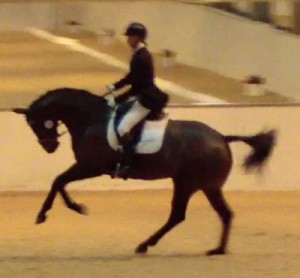 Darlingscott Ster IBOP
2008 16.2h bay mare. Jazz x Flemmingh x Beaujolais.
Darlingscott was bought as a 2yo from Wrestow Stud. She comes from a very successful family full of Ster and Keur mares. Her mother line has produced several good dressage horses up to PSG/Inter 1 level and successful show jumpers to 1m60 GP level.
Her sire Jazz is one of the all time great dressage stallions, competing GP himself and being #1 in the WBFSH dressage sire rankings in 2008, 2009, 2010, 2011 and 2012!
Her damsire Flemmingh is another top dressage sire, #6 in the WBFSH dressage sire rankings in 2008.
Darlingscott's dam is Flemmingh x Beaujolais, the same cross that produced Krack C, a top GP horse himself with Anky Van Grunsven and in the top 40 WBSFH dressage sires.
Darlingscott entered the Futurity as a 3yo and was ranked Elite, something that is only achieved by the top 1%. She was 3rd best dressage horse in the whole UK. The Futurity covers all studbooks and all breeds and around 800 horses are entered every year. It has a veterinary assessment of conformation as well as judges' assessment of potential. Previous winners of the Futurity include the double world champion Woodlander Farouche.
She was graded by the KWPN, gaining the Ster predicate and passing her IBOP (performance under saddle) test. She was champion of her grading and had a write up in the KWPN magazine.
Darlingscott then started competing and the dressage judges loved her too. She scored over 77% at BD Elementary level, ridden by Emma Forsyth.
Her half sister Flore (by Rousseau) qualified for the National 6yo Young Dressage Horse Championships and is currently scoring over 73% at Medium level.
Darlingscott's first foal is by the Olympic gold medallist Uthopia. The KWPN recommend Uthopia as a good match for Jazz mares. Darlingscott's full sister Eydon (owned by Wrestow Stud) had a colt by Uthopia in 2012. He grew up to be Hamlet, a hugely talented dressage horse who was National Champion Novice Silver with Rob Barker in 2017 and has qualfied for the National Championships again in 2019 at Medium Gold level.
Darlingscott's Foals.
2016 Black colt by Uthopia. Luxury. SOLD
2017 Bright bay filly by Belissimo M. Stolen Romance. SOLD at the AES Elite Foal Auction. Top priced filly.
2018 Grey filly by Silvermoon. Stolen Matine. Retained by the stud.