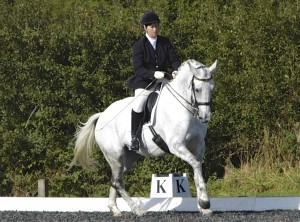 1993 Irish Draught Sports horse by O'Sullivan RID (full brother to Grey Macha) out of Fair Stella xx by Top Star xx.
Grey, 16:2hh. Graded SHBGB and AES.
I bought Stolen Silver as a foal to be my riding horse. She has been wonderful. We started off doing several seasons with the Readyfield Bloodhounds where she cleared enormous hedges, sometimes over 1m80 high and 2m wide. She was fast and brave with bottomless stamina and was described as being a Rolls Royce across country.
When she was 9 we swapped to dressage. Highlights were being in the top 45 in the UK at Open Medium level and competing in our first PSG test. She won the national prize for Irish Draughts in dressage. She schooled most of the GP moves before retiring, sound, age 16, to become a broodmare. She is still sound and happily retired.
Famous Relatives
Her dam is full sister to Bright and Fair, supreme champion at HOYS.
Her granddam is granddam to Before I Do It, Olympic and WEG 4**** eventer.
Foals
Stolen Silver has had three foals: Stolen Moon, Stolen Silverlign and Stolen Circus.
Two were by the outstanding Trakehner stallion Silvermoon. He sired one of the best dressage horses the world has ever seen in Blue Hors Matine. She was silver medallist at the World Equestrian Games. He has also sired several other Grand Prix horses, a 1m60 Grand Prix show jumper and an Advanced eventer. That's an amazing record for any stallion but when you consider that Silvermoon was not used for breeding at all for many years, its incredible. To have so many international competitors from very few foals and to have them in dressage, show jumping and eventing puts Silvermoon amongst the very best stallions in the world.
Stolen Silver's last foal (Stolen Circus) is by Uptons Deli Circus. He was an Advanced eventer, European young rider gold medallist and sire of 4**** eventer Uptons Who. Stolen Circus has been retained as a broodmare so that I can carry on this wonderful motherline. She is in foal to Persiflage (3*** eventer) for 2016.
Benefits of this mother line.
With close relatives standing at the top of the line in showing and eventing, with her trainable brain and durable soundness, Stolen Silver should produce horses that are sound, athletic and able to compete in eventing and dressage.